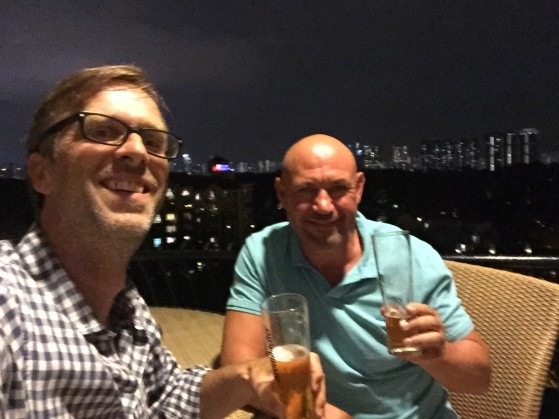 People who are not speakers are able to quickly see the amazing advantages of being a speaker: Get paid a lot of money to travel the world to spread a message that you are passionate about, which spreads to thousands and thousands of people by working a few hours per day.
But very often, there is a "BUT…" to the sentence that begins "Being a professional speaker seems amazing…". And that sentence very often ends with "… but don't you miss having colleagues?"
And it is true — being a professional speaker is different from many other jobs because you do spend a lot of time on your own.
I would say 90% of speakers work by themselves, or in a very small team with one assistant, who might not even live in the same town as the speaker by working virtually.
Actually, the  job of being a speaker is very social. Just the nature of the job means that you very often spend your days at conferences (and conference parties) mingling with a huge amount of people.
BUT, you might say, those are NOT your colleagues. You are just visiting their conference/party.
True again.
And I am not going to lie and say that by being a speaker, you have the same social interaction with colleagues as you have in "a normal" office job. You also do not get involved in the politics that comes with a normal office job. 😉
So yes, a speaker doesn't have colleagues in the traditional sense. But we have colleagues.
Lets see how the dictionary looks at the word:
"colleague |ˈkɒliːg|
noun
a person with whom one works in a profession or business."
The speaking professionals have been very good at building a community of "profession colleagues", as in "colleagues in a profession" as compared to "in a company". It might very well have come about out of the necessity of not having "normal" colleagues.
But regardless of the reason for why it is like that, I just have to say that I love it.
I regularly meet up with a whole host of professional speakers in informal meetings where we chat about work, life, and the universe just like you would with colleagues in the office.
Just in the last 2 weeks, I have had such meetings with 8 different professional speakers.
Last night, I had a meeting with Andrew Bryant, the thought leader on Self Leadership (he literally wrote the book on the subject).
We spent 3+ hours on the balcony of Andrew's penthouse overlooking the Singapore skyline, and over a couple of beers, we discussed everything from Brazil, Outlook, speaking in India, and book writing. It's a mix of private and business topics, serious and fun, as one does on an "after work" with colleagues.
The funny thing is that speakers meet up at all!
When you think about it, in a way it is a very cut-throat business:
A client is looking for one speaker for an event, selects a shortlist and then picks just one off that list. All the others on the list gets nothing since it is quite common for a client to just pick one speaker per day for a conference.
You would think that speakers then would be very wary about sharing their secrets and their knowledge, but it is the opposite.
After having a great time with one fellow "colleague", I wanted to write this post in appreciation of all the speakers who have helped me by agreeing to meet with me. If you are a speaker and want to hook up with me for a beer, coffee, or lunch, drop me a line by clicking on the mail symbol below.
I would love to meet up.
That's what colleagues are for.