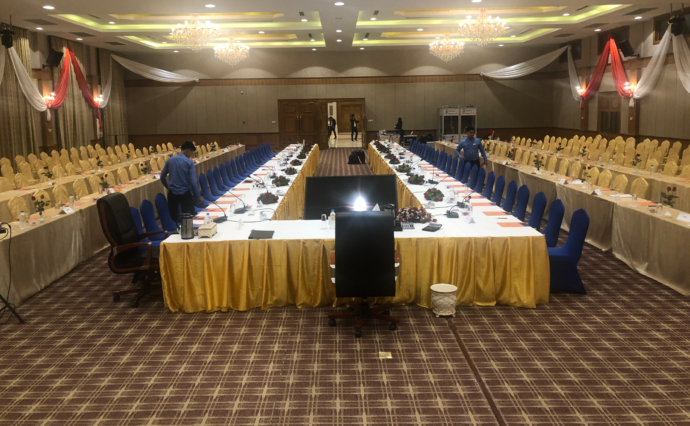 See something strange with this picture?
Yes, all the seats are facing each other, not the stage.
That makes it harder for the speaker to connect.
But the really unusual set up is that the boss has a chair facing the OPPOSITE way.
There is a big LED TV so he can see the slides, but to see the speaker (and for the speaker to see him) he has to decide to turn around…
So how to deal with this as a speaker?
I saw this set up the night before my speech and considered having them change the layout of the room, but it was not an option.
To make the room work better I decided to:
1) Keep the energy up from the start to get the chairman to turn his chair around to see what was happening
2) Walk into the room a few times during the speech to create a better human connection with the room.
3) Network with the senior leaders (the ones that would be sitting in the blue chairs) during the dinner to have a personal rapport with them.
Lesson: You can not always change the room to how you want it so then work with what you got.
What is the most intimidating set-up you have ever spoken at? How did you resolve it? Email me at fredrik@fredrikharen.com