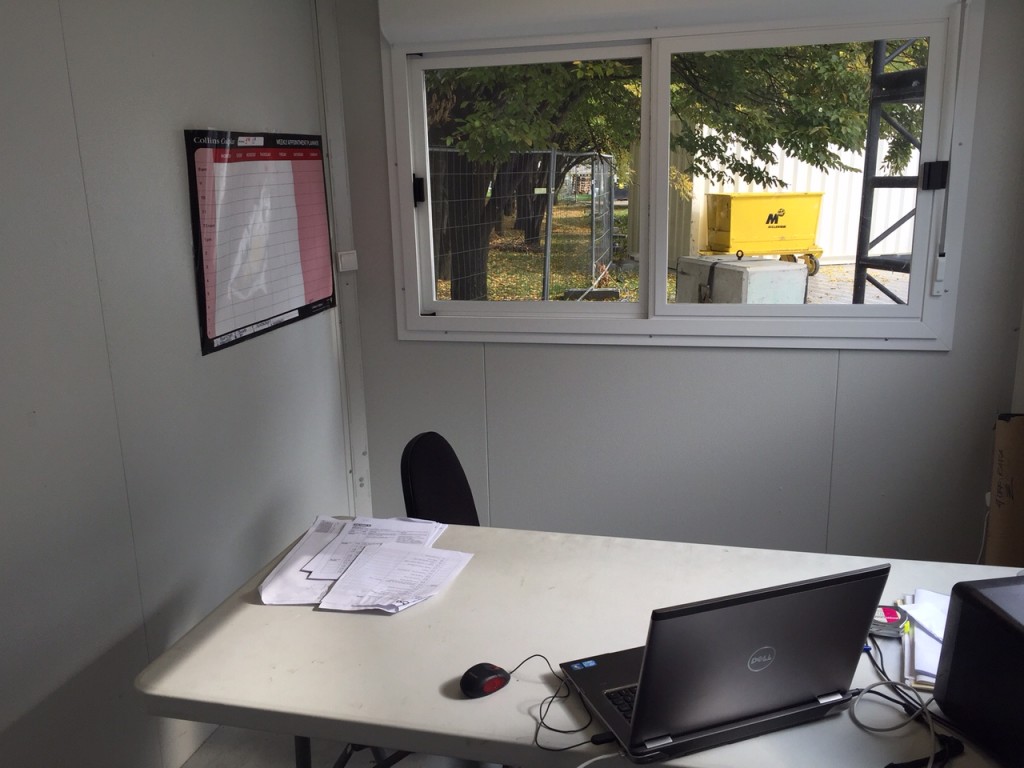 At 2 pm I was scheduled to stand on stage to give a keynote speech in Paris.
75 minutes earlier I was still speaking for a group in Skövde, Sweden …
But I made it.
How was that possible?
By giving my first speech in this small little crappy server room next to the venue I was speaking at in Paris.
You see, I did my first speech via Skype.
I am not a big fan of "video speeches" and I do not actively promote giving video speeches as something I do, and yet I have done two video speeches just in the last month.
First one for a conference in Rumania (from my bedroom in Sweden)
And now this second one to a group in Sweden from a server room in Paris).
I said yet to both those requests because the client had wanted me to come and speak at their conference but for scheduling purposes it was just not possible.
(And yes, I got paid my "local speaker fee" for both those speeches.)
So why do I not like doing video speeches?
Three reasons:
1) I really like to travel and meet new people and see new places. Traveling is not a down side of my job – I see it as a perk.
2) There is always the risk of the technology not working.
(For one of the speeches I did this month we literally got the skype and Internet-connection to work 2 minutes (!) before i was scheduled to talk (And then we started testing it one hour before, had tested it days earlier and I had a IT-expert to help me…)
3) My style of speaking is interactive.
It is possible to interact also via a video speech, but it is more difficult.
My best advice for giving skype-speeches is to develop your imagination so that you actually feel that you are in the room speaking.
The key words for a good keynote are "connection", "presence", and "authenticity" – all of that is hard to do at a distance, via a screen.
Not impossible but difficult.
By forcing yourself to feel that you are actually transmitting yourself into the computer and into the room where the audience is sitting you will make it easier for the audience to connect with you and your message.
If you do it well the audience will get almost the same feeling as if you where there.
But – watching a concert on TV or on a computer will NEVER be the same as watching the concert live.
It is the same with a speech.
But if you do it right you can get close.
Below are two quotes from the speeches I did on the same day:
Quote 1 from the "real" speech in Paris where the man and I were in the same room:
"I'd like to thank you very much for your wonderful, inspiring, & dynamic presentation you've made to us during CANON EXPO at Paris. I really admire your abilities & how you motivate people."
– Regards Yasser
Quote 2 from the speech I did via Skype and where the audience and I were in different countries:
"I would like to thank you for a very interesting presentation today. It was both inspiring and thought provoking – an eye opener. I will bring this speech with me as a reference for the future."
– Tomas Planstedt
As you can see, very similar kind of feedback.
Lesson: If you do a "long distance virtual speech" do everything you can to try to "transmit" yourself to where the audience is sitting so that they can feel how you are trying to connect with them.
When giving a skype-speech the "connection" almost becomes more important than "the message'.
(Suggestion: Submit your email address in the form to the right to get a convenient email summary in your inbox every time 10 new posts have been posted.)
Contact Fredrik by clicking on the email symbol below.