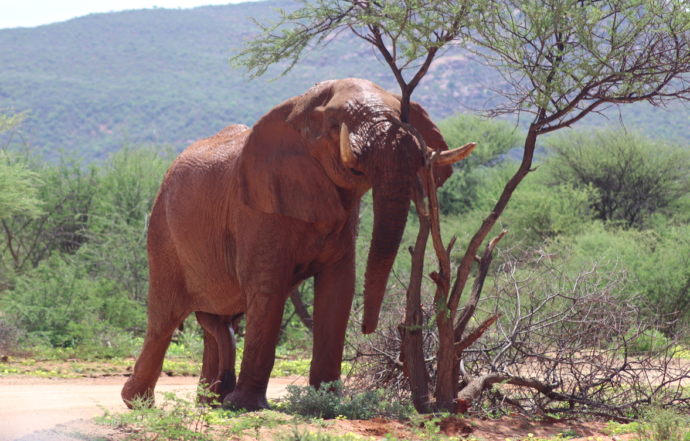 This post is about the big perks of being a professional speaker that got me to experience, amongst other things, big game safari in Namibia last week.
Being a professional speaker is to have a great job. Think about it: You get paid a lot of money to work a very short time and when you are done you always get an applause. On top of that you get to learn a lot of things and meet many interesting people. It's just an amazing job.
But the best part of being a speaker is not the work – it's the "side effect" of getting to travel to exotic, and often luxurious, locations and experience amazing things.
Remember speakers speak at conferences that are often, in part, put together to be rewards for top managers who have worked hard for the last year. That's why conferences are held in places like Bali, Phuket, Las Vegas and Barcelona. And that's why companies organise outings like inviting master chef's, going horse back riding or visiting the great wall of China.
And here is the kicker: As a speaker you are often invited to take part in these amazing experiences in these exotic locations. (Did I say that speaking was a great job?)
Here is a (tiny) sample of the things I have been invited to take part in during my 20 years of speaking:
– Snowmobiling next to a glacier on Iceland
– Whitewater rafting in Borneo
– Watching many of the big mega shows in Las Vegas
– Experiencing Barcelona on Camp Nou
– Skiing in powder snow in Nagano
and on and on.
I am telling you this because when people hear about my job as a global speaker they often get a "Oh, Sorry about you having to live your life on airplanes-look". What they are not seeing is that, unlike many other professions, who travel the world only to see offices, airports and planes, professional speakers travel the world to go to some of the most beautiful places on the planet so experience experiences planned as rewards for the top executives of the largest companies in the world.
It means that, unlike for many other professions, traveling is a perk – not a penalty.
The last two weeks are perfect examples of this.
Last week I was in Namibia to give a speech at a business conference and also to give a speech to the newly formed Professional Speakers Association of Namibia. In their gratitude of having me come and speak, the organisers had put together a – free! – four day trip after my speeches that just blew me away.
And though not all experiences that speakers get to go on are as long or as amazing as this, I am sharing it with you to show what the life of a professional speaker is like.
(Clarification: Most posts on this blog is about how to become a better speaker, but some of the posts are about the life of a professional speaker in order to describe what your career could look like if you decided to become a global, professional speaker. This is one of those posts.)
So now, let me share with you my trip to Namibia.
After two speeches in Windhoek, the small friendly capital of  Namibia, my hosts took me on a four day tour of their country.
So my workweek last week was:
Sunday: Full day with family
Monday: Full day with family (flight at midnight)
Wednesday: Travel + evening speech for speaker association
Thursday: Speech at business conference
Friday: Safari lodge and game drive
Saturday: Ocean safari and sandboarding in the dunes of Swakopmund.
One hell of a workweek if you ask me (with still 30+ hours of family time)
My workweek this week will be:
Sunday: Desert safari
Monday: traveling.
Tuesday: skating in the archipelago (after giving my speech in the morning) in a wintery Sweden.
Wednesday: traveling
Thursday and Friday: Taking my kid to school in the mornings, working for a few hours but home ready to play with them when they come home from school at 3 PM,
Saturday: Home with family all day.
Now that is another hell of a work week if you ask me: More than 25 hours home with my kids while at the same time experiencing world class, exotic nature activities on two continents, And – give a speech for the top managers of a Swedish company.
And in these two weeks I did 3 speeches. That turns out to be 60 speeches per year – well above the number of speeches you need to deliver to be able to earn a very comfortable living as a speaker.
See now, why I went for the headline of "The best part of the job is not the job"?
I hope this post has inspired you to go all in and develop a career as a global, keynote speaker. Now read the other posts on this blog to see how to become one.
ps. If you want to copy our trip here are the links to the great hotels we stayed at (My hosts had gone the extra mile to make sure we had great accommodations!)
http://www.minorhotels.com/en/avani/windhoek
http://www.villagecourtyardsuites.com
ps. Below  a more detailed list of the things we did in Namibia.
– We started with a safari in a private game reserve (Erindi) the same size of my home country Singapore (!) – where we saw Elephants, Rhino, Zebras, Giraffes,Crocodiles, Hippo's and many other magnificent animals, many of them we could see at the watering hole next to our villas! Erindi game reserve has 10 000 animals…
then
– we went into the desert for 4-wheel driving, quad-biking, camel riding and sandboarding (that's like snow boarding but from a sand dune). I even got to climb the largest sand dune known to man (it's BIG).
then
– we took a cruise in the Atlantic and watched dolphins, seals, flamingoes and albatrosses – all with in just a few minutes from shore (and if you go out further you can go whale watching too.)
and we also had time to go to nice restaurant to eat game cuisine, experience the cultural city of Swakopmund with it's strong German influences, as well as driving for hours though a stunning and deserted desert landscape with no other human in sight.
If I was to sum my experience of this underestimated country into a slogan it would be: "Namibia: The best of Africa (without the worst of Africa)."
And here is my point: This was a trip of a life time, that I got to do it as part of my job.
I doubt that I even would have thought about going to Namibia on vacation, now i got to experience all of this while working.