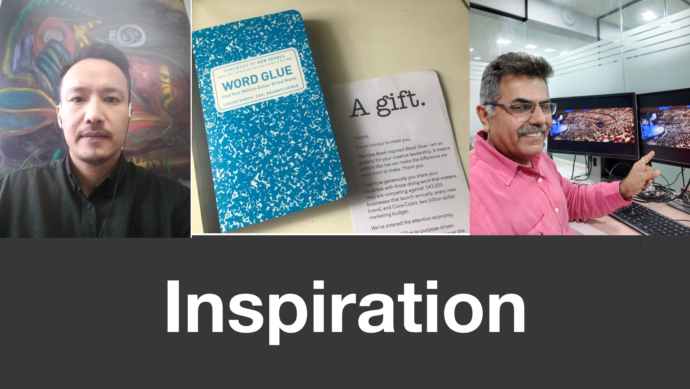 This might be a strange post but it feels right to write it. I say strange because I am going to write about me inspiring others.
The last few days I have, for example:
a) gotten an email from a man from Mongolia (Ankhbayar Batbaatar) who wrote to me out of the blue – to tell me that he is "my big fan" since a friend gave him my book "The Idea Book".
b) received a book by an American woman (Lousie Karch) with a copy of her book (Word Glue) and that she happily told me in a sweet note that she was inspired by my book.
c) gotten a photo sent to me from a man in India (Jugdish Ahuja) which shows me how he has a picture of me speaking on a big stage as his desktop picture on two screens (!) to inspire him to dream big about speaking.
Mongolia.
America
India.
As a Swede living in Singapore that is just so inspiring to me to hear I have been inspiring others.
It is my firm belief that people who do what they love and love what they do – inspire.
It is my firm belief that people on a mission to spread a message to as many people as they can – inspire.
It is my firm belief that people who are humble enough to focus on doing things that inspire them – will inspire others.
And that is why this post is a bit awkward to write, because I do not want it to look like I am bragging about being called inspiring. 😉
I am not. On the "people who inspire list" I am humbly aware that I am not even near to being at the top. (If ever there was such a list)
I am instead writing this post to hopefully inspire more people to live their lives in a way so that they will inspire more people.
The world needs more positive, inspiring examples right now.
As speakers, a big part of our job is to spread a message in a way that inspires.
So how can we do that?
My amateur observation of what inspires inspiration is:
a) Mastery. (Someone doing something really well – be that playing the piano or jumping into a pair of pants.)
b) Positivity. (Doing what you do in a positive way – be that cleaning the street or flying a plane.)
c) Humble ambition. (An urge to become better without the urge to feel that you are special.)
d) An element of surprise. (Something done well in an at least slightly unusual way – like a footballer doing an unexpected dribble.)
So if we as speakers and authors (as spreaders of messages) aim to spread our message:
a) As well as we possibly can
b) In a positive and/or funny way
c) while fully understanding that the message is not about us but about the audience
d) and do that in a way that at least slightly surprises the audience
Then we have a big chance of inspiring inspiration.
And the best part of doing that is that it is such an inspiring job to have. I am walking on feather light feet knowing that my book and speeches are inspiring people from Mongolia to America to India this week – so much that they take the time to sit and write me an email to tell me about it.
What are you going to do that will send waves of inspiration around the world?