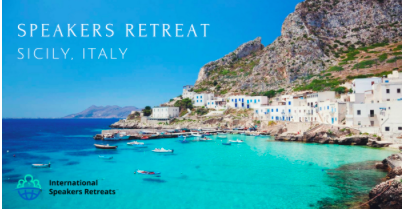 Are you serious about  becoming better as a speaker? Here is your chance to really take your speaking career to the next level in an intense but inspiring way.
After being a professional speaker for 20+ years, and after mentoring 100+ speakers and speaking at speaker conventions on 4 continents (soon 5) I have decided – for the first time! – to dedicate myself to teach at full blown speaker retreat where I will teach all I know about professional speaking for 4 days (!) together with the amazing online-marketing expert James Taylor and skilled voice coach  Alison Burns.
I know of no-one who knows more about how to do online-marketing for speakers than James Taylor and to get a chance to spend four days with him is a treat that anyone interested in building a modern speaking career should grab.
For my own part I can promise that I will share everything I know about how to build a career as a global keynote speaker and I really look forward to – for the first time ever – go deep and share extensively what I have learned from building a global speaking career that today have me speaking in 20+ countries per year.
This event comes at a cost, but based on what you get I find it very reasonable. four days on Sicily, including meals and loads and loads of learning.
I have chosen to post the whole event information below. Hope to see you in Italy in May 2018!
INFORMATION ABOUT THE EVENT:
How would you like to spend four days on an Italian island crafting your new signature speech, improving your presentation and stage skills, and discovering strategies for getting booked on global stages?
This video has all the details.
Yesterday we began accepting applications for our 1st International Speakers Retreat in Sicily, Italy and we'd love if you would consider joining us.
Our guest speaker coach will be Fredrik Haren, one of the world's leading keynote speakers. He has shared the stage with Richard Branson, Seth Godin and Sheryl Sandberg and has spoken in more than 60 countries! See below what his students say.
There is one problem however. We only have space for 30 students on this retreat and we'll begin accepting the first applicants this Friday!
So whether you've been speaking professionally for years or you're just starting in your speaking career, you'll be able to immerse yourself in the craft, art and business of speaking over four days at this immersive retreat.
But it gets even better…
Successful applicants will also receive over $2,500 worth of bonuses including our new International Speakers online course, a 1-on-1 coaching session with Fredrik Haren, VIP Passes to two of our online events, plus much much more.
It's going to be an amazing four days and nights of learning how to launch, grow and monetize your message as a global keynote speaker.
I hope you decide to join Fredrik, myself and your fellow speakers in Italy.
— James
P.S. Why not have your partner join you in Italy.
We've got a special Partner Package just for them.
WHAT PEOPLE ARE SAYING ABOUT FREDRIK HAREN
"Ever since I first saw Fredrik speak 6 years ago, I've greatly admired him as a speaker. In our mentoring sessions, the questions he asked, the ideas he shared, the feedback he gave after watching my speech were all stunningly helpful.
In the two weeks following one mentoring session, I had my first standing ovation in Asia (they're rare in Asia!), and a speech to another client resulted in them booking me for four further talks the same month. His framework of helping speakers to discover their inner theme is profound and transformative."
– Rob Lilwall
"I had been struggling to find my inner theme for some time. Oh sure, I have my business The Digital Conversationalist, but my inner theme is deeper than that. It's that core ability I have, and I always believe core abilities are often the hardest thing to see in ourselves. It was amazing having that time with Fredrik, watching him weave his magic. It also gives me greater confidence in the message I am seeking to share."
– Andrea Edwards
"I want to express my gratitude for the extraordinary value, time and effort that Fredrik took to mentor me. To watch my talks, write notes and share his creative suggestions in the most authentic, helpful and professional way. Fredrik is also an inspiration of the ethics of the speaking profession and how delivering value always trumps marketing."
– Avi Liran
"Having been through Fredrik's session I would not only highly recommend it to anyone struggling with the million and one ideas in your head, but even for those of us who think we are sure and we are clear. It is just amazing the light that Fredrik is able to shine on your idea(s). Whether you are a budding SPEAKER or AUTHOR, or one needing clarity on your next big idea, or even if you think you are on the threshold of something HUGE…..contact Fredrik TODAY."
– Roshini Ganeshan
"I was so passionate towards being a public speaker and specifically a Keynote Speaker. But I did not know how to do it. The 45 minute mentoring session I had with Fredrik opened a new dimension to my life. The questions Fredrik asked, made me think. The tasks that he gave me to improve my passion were simple, but powerful.The words of encouragement by Fredrik made me to immediately jump into action. Thank you so much Fredrik for motivating, inspiring me and making me take an action towards what I love."
– Narendran Narasimhan
"What I have been trying to do for the last 3 years, Fredrik managed in 35 minutes. In an extremely powerful coaching session he helped me discover my message to the world.
I left the session feeling electric, and super excited about the possibilities! Absolutely unbelievable – and life changing."
– Theo Davies
"An experienced trainer and coach myself, I was stuck – I felt that my vision had subtly changed over the years until it didn't fully resonate any more but I couldn't see the way forward.
Fredrik's insightful questioning, feedback and never-give-up attitude helped me shift that in just over an hour. He was able to show me a completely different perspective and way of looking at my work and business. This perspective has helped me tremendously in moving forward. So if you haven't worked with Fredrik before – what are you waiting for?"
– Meenakshi Sarup
"I have been working on my positioning for a long time and felt that I was only halfway… something was missing. I contacted Fredrik for some advise regarding industry trends that could help me with my direction. What I got was an deep experience. He guided me through, to discover my red thread in life and linking it to the inner theme. Having a quite analytical mind, I was of course a bit skeptic directly afterwards, it cannot be that easy.
I mean, I have done so much work on my professional development and taken help from several advisors without getting this far. But I have now had time to reflect, taste it, see how it maps to the way I do things and when I read old notes and articles I have written I can see it shine through. What was unseen is now seen and it has given me a foundation to build my decisions upon which keeps me focused. I can highly recommend Fredrik."
– Mia Liljeberg