On Friday I was in Kuala Lumpur to deliver two two-hour speeches for two different groups from the same company.
Group one: Senior leadership.
Group two: Young potential leaders.
I love when I get to do two talks for two different groups from the same company because you can pin the groups "against" each other to create a sense of "competition" between the two groups of which group is the "best audience".
I do that by saying things like:
"I will ask you the same questions and I asked the other group and I look forward to see if – and if so how – you will answer the questions differently.
A bit of friendly competition makes the group want to be "better" and when a group is good, the speaker becomes good and when the speaker is good the group becomes good and so on.
Sometimes small "tricks" like this makes it slightly easier to be a speaker. Thought I would share that little trick with you today.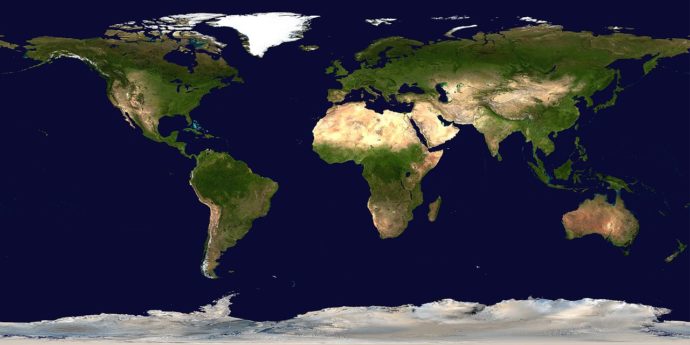 A quick post about the need to develop a speech that works on all audiences if you want to be a global speaker.
I am writing this on the plane from Singapore to Abu Dhabi. In the last two weeks I have been speaking in Auckland New Zealand, London UK, Paris France, and tomorrow Abu Dhabi UAE.
Totally different parts of the world, totally different audiences.
As I was thinking about why I got those bookings around the world I was reminded of an email I got a few weeks back from a client.
She was sitting in a room where they were translating my speech from English to Spanish (and where the audience was watching the speech on video (in other words, I was not in the room (just on video), I was giving a speech in my non-native language of English that was then translated (!) into Spanish and dubbed using an other mans voice…)
I was not there in person, or in voice, or in language.
And yet – as you can see in the video – the audience is laughing.
My client wrote to me: "It's amazing to see how well your content, humor and ideas translate."
(And this is from a client who have booked some of the biggest name in speaking globally.)
I spend a lot of time making sure my speech is working for all kinds of audiences because I speak so much around the world. Or do I get to speak so much around the world because I spend a lot of time making sure my speech is working for all kinds of audiences?
That chicken or egg-question will be what I leave you with today.
If you want to speak more globally, make sure your speech works globally. You would be amazed how many speakers to do spend time on doing that.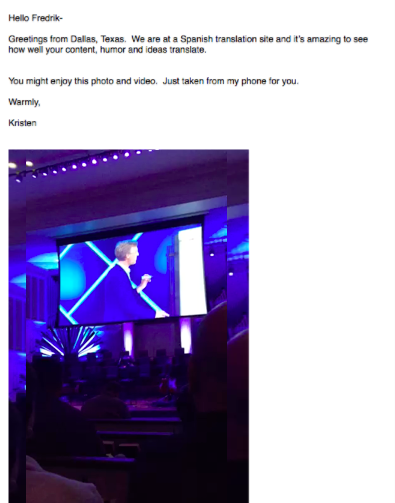 Here is the Video if you want to watch it.