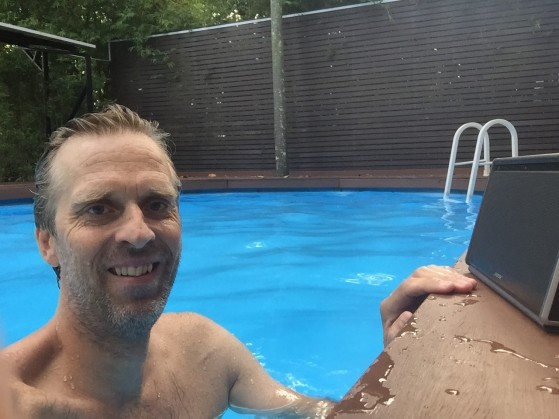 In a recent post, I wrote how I counted one hour of water gymnastics as work, and I got a few questions about how that could be regarded as work. So let me explain one of my routines.
As a writer and speaker, you tend to spend a lot of time in front of a computer screen, either researching, looking for inspiration, or writing down thoughts and ideas. Speaking is basically just repeating the very most interesting things you have learnt.
Sitting in front of a computer for hours is not a good thing for your body.
So I try to find ways to force myself to get my body to move.
And yes, it helps to be a father of two (soon three!) young kids who ignore the fact that you are an old man, and make you run around on all fours pretending to be a horse when they come back from school.
But my body needs more exercise than that.
So I have created an exercise routine that is perfect for me, that keeps my body working while my mind keeps thinking about work.
Almost every day that I am not travelling, I spend one hour in the pool doing water exercises while listening to a podcast. The podcast part is important, it makes the hour go by fast and also helps my mind wander in an organised manner.
I normally listen to podcasts that are from speeches so that I can:
a) Learn something interesting
b) Listen to how other speakers present
By listening to other speakers, I can also evaluate how I would have presented a similar story, or example, so it's a good way to benchmark yourself against other great speakers.
So today, I listened to a one hour speech by Daniel Pink, the author of "A Whole New Mind". Daniel used to be a speechwriter of Vice President Al Gore, and I always find it interesting to listen to what speechwriters have to say about speeches.
In this podcast, Daniel said:
"Being a speechwriter, I have a certain philosophy about speeches. I believe that every good speech, every where, every time, no matter what your audience is, no matter how big the crowd is, no matter where you are in the world, every good speech has 3 ingredients: brevity, levity, and repetition…"
And then he adds:
"… Let's say that again: brevity, levity, and repetition."
Touché!
After one hour in the pool, I get up fit and inspired to go and do some work of my own.
I understand that not everyone has a pool in their house. Before, I used to do it on a treadmill. You can also just get out and walk while listening to something that interests you in your iPhone.
The point is to move your body and your mind at the same time. I find that as the best way to prime yourself for a good day's work.
Now, if I want to exercise to get my mind OFF work, of course, I would not do this. Then I would play squash, play with my kids or do something that distracts me from work.
The routine I have described above is what I do in the morning to move me into a good mood before going to work, and to help me contemplate on the bigger picture so that I do not start the day getting crushed by small details and urgent emails that scream for my attention.
Lesson: Find your morning routine that gets you off to a great start for work. For me, it is one hour in the pool listening to a podcast to learn how other speakers speak and how other thought leaders think.
P.S.
So what is my routine when I am traveling? I guess I will write another post about that one day.
(Suggestion: Submit your email address in the form to the right to get a convenient email summary in your inbox every time 10 new posts have been posted.)
Contact Fredrik by clicking on the email symbol below.