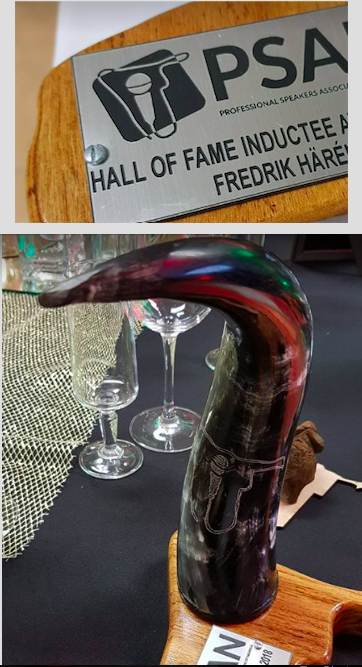 A couple a days ago I was inducted into the Hall of Fame of the Professional Speakers Association of Namibia (PSAN). It made me very proud.
Not because I think I am in any way famous. (I know am not).
But because I believe I was inducted because the members of PSAN wanted to acknowledge my passion for spreading knowledge around how to speak professionally.
As professional speakers we must remember that we get selected because of our passion and knowledge about the topic we speak on, and how we deliver that message – not because of who we are or how famous we are.
Of course for "celebrity speakers" – speakers selected because they are famous – that is not true. Celebrity speakers can be terrible on stage and lack a strong message and they only get selected because "they are famous", but celebrity speakers is not the norm.
For most professional speakers the truth is that we do not get selected because we are famous, but because we are known for being good by the people who book speeches, or the people who know those people.
There is a big difference between "being famous" (which means "known about by many people") and being "known about by the right people".
As a professional speaker for 22 years who have been invited to speak in 67 countries I have never really bothered about being "known by many people". I off course try to spread my message to as many people as I can, but I do not spend a lot of time, energy or effort trying to make myself a "house hold name".
But I do want the people who are part of the speaking community (event organisers, fellow speakers, people who book speakers) to know who I am an respect what I do and how I do it.
And perhaps that is why I became proud when a group of professional speakers in a country like Namibia decide to induct me into their Hall of Fame. Or how I felt happy when the world's professional speakers associations last month decided to give the "International Ambassadors Award" to me.
As a professional we do not need to be know by "many people". We do not need "fame".
We just need to be known by the right people, for the right reasons.
When it comes to speakers we need to be known for the love for our topics, dedication to the craft, commitment to becoming better as speakers and an interest to always want to learn new things etc.
The right people need to feel our passion.
So do not go for "fame". Go for "flame".