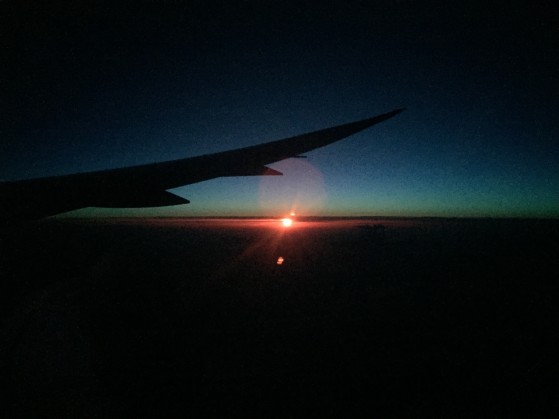 I am a very frequent flier.
Last year, I worked in 32 different countries.
I have been invited to speak in 60+ countries on 6 continents during the last 15 years.
There was a year when I used 23 different airlines.
I spend more time in the air than a commercial airline pilot.
So, yes, I travel A LOT.
(Side note: For me, the travel is a goal in itself. That doesn't mean I think everyone should travel like me. It only means I want to travel like this. For my post on how you can travel a lot and still keep a healthy work-life balance, see this post.)
With a travel schedule like that, it is natural that I will get many questions on how I look at "frequent flier miles" and being "loyal to my airline".
Well, the more I fly, the less I count the miles and the less I am loyal to any airline.
Let me explain.
But first, a DISCLAIMER: I am not saying that all frequent fliers have to think and act like me when it comes to picking airlines.
My purpose with this post is to give an alternative to the common "mantra" of "being loyal" to one airline that I hear so many fellow travellers speak about.
Let's start with an example:
Let's say I want to fly to Stockholm from Singapore on Sep 20th and fly back by the 21st. Yes, it would be a crazy flight to take. But I and many other frequent fliers take these kinds of flights a lot.
If I INSIST on using Singapore Airlines, I would have to fly out at 13:55 on the 20th, and arrive in Stockholm at 23:45 on the 20th.
If I instead choose to fly with, say Finnair, I could leave at 23:35 from Singapore on the 20th, and arrive in Stockholm 08:00 on the 21st.
That means that I would have 9 hours and 40 minutes or 580 minutes MORE with my family on September the 20th by being "unloyal" to Singapore Airlines.
Yes, since it is a very expensive ticket at SGD 9,561, it would give me some nice miles – 17,872 miles to be exact.
A flight with SIA from Singapore to Copenhagen will cost you 120,000 miles if you are lucky to get the "saver rate". The "standard rate" is 220,000, and the "full rate" is 540,000 points.
But, let's say you are lucky and get the "saver rate".
The full price would be SGD 9,823.70.
That means that to get a free flight (even on saver rate), you need to fly 6.7 times. Let's round it up to 7 flights.
So, if I would have insisted on flying Singapore Airlines 7 times in order to get 1 free flight to Copenhagen worth SGD 9,561, I would have had been away 580 minutes x 7 flights = 4060 minutes, or more than 67 hours.
Now the "free flight" would still have cost me SGD 552 in taxes, so I would only have really saved around SGD 9,000 (SGD 9,561 – SGD 552 in taxes = SGD 9,009).
So, to get 1 free flight worth SGD 9,000 on Singapore Airlines, I would have had to fly 7 times with Singapore Airlines to Sweden instead of flying with Finnair, which would mean I would have had about 4,000 minutes less with my family.
Now, let's count the value of that:
SGD 9,000 / 4,000 minutes = SGD 2.25 per minute, or about SGD 135 per hour.
Now, ask yourself this question:
If you are away from your family a lot because you frequently travel for work, would you be willing to be away one more hour if someone paid you SGD 135?
If so, by all means, rack up the frequent flier miles and be "loyal" to your airline of choice.
But if you think your family time is worth more than SGD 135 per hour, then you might want to consider being loyal to your family instead. 😉
BUT WAIT!
You say SGD 135 per hour is a a lot of money? It's the equivalent of a monthly salary of over SGD 21,000.
Hold on, it gets worse.
1) Most Airlines Have Frequent Flier Miles
For example:
I have NOT taken into consideration that by flying Finnair, you would of course also get miles with them!
Finnair miles would have some value in the same way that the Singapore Airlines miles have value.
And if you fly a lot, you will soon rack up miles on all the airlines that you fly with.
Yes, it will take longer to get a free flight, but you will still get them.
2) The Value of Savings from Cheaper Tickets
I have also not taken into consideration that flying with Finnair (in this example) would have been about SGD 3,000 cheaper (SGD 9,561 on SIA, SGD 6,424 on Finnair).
So in 7 flights back and forth, I would have saved SGD 21,000 in cheaper flights, giving me enough money to BUY more than 2 Singapore Airline flights to Copenhagen and still have SGD 2,000 in the bank.
Or if I instead bought that flight to Copenhagen with Finnair, it would have just cost me around SGD 5,000. I would have been able to get 4 (!) return flights to Copenhagen (with Finnair) just on the money I would have saved on finding a cheaper ticket.
3) The Value of Actual Money & Time Saved vs. Artificial "Savings" from Frequent Flier Miles
Now, I know that not all people who travel on business care about the price of the ticket. Basically, only business owners who pay for their own ticket would have to.
But imagine a company that would create its own "reward system" for money saved while flying instead of the artificial "savings" of miles.
Note: I just picked the dates in random and the prices go up and down. I am also aware that, with some searching, I might have been able to find a different Star Alliance carrier (like Lufthansa) where I still could have been able to rack up some Singapore Airlines miles.
But my point here is to show an example of how looking for alternative flights based on "minutes saved" is a nicer strategy than "miles collected".
The conclusion I have come to after flying a lot is: If you are a frequent flier who are away from your family a lot, then your focus should be on getting home as fast as possible.
Be loyal to your family time, not to your airline.
Lesson: Do not count the miles. Count the minutes.
Your airline might love you less, but your spouse will love you more. And very few kids would choose "collect the miles" or "come home earlier" when asked what they think their traveling parent should prioritise.

(Suggestion: Submit your email address in the form to the right to get a convenient email summary in your inbox every time 10 new posts have been posted.)
Contact Fredrik by clicking on the email symbol below.