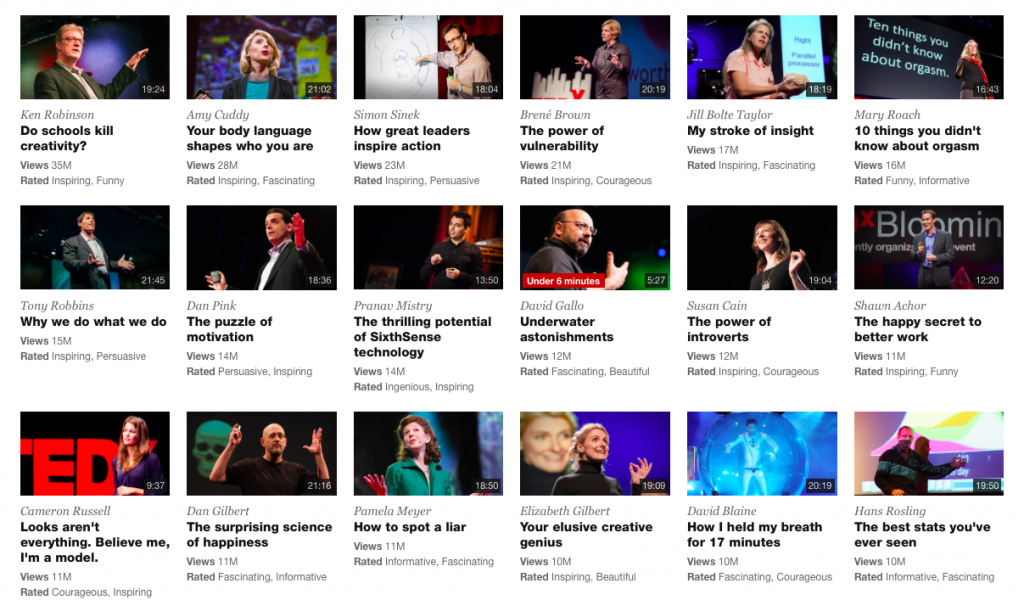 A surprisingly large amount of people seems to think that a keynote speaker is a person who goes up on stage and behaves as some kind of "management guru", that you have to walk up on stage and dominate in an alpha-male-kind-of-way.
And it sure used to be like that. That's what people thought speakers "had" to be like.
But something has changed.
And I know that this might be hard to believe when you attend conference after conference filled to the brink with alpha-male-guru-speakers, but hear me out.
TED is a conference and website (www.ted.com) that gathers some of the world's greatest thinkers on its stage. It is arguable the worlds' leading site for watching speeches.
Now here is the thing: There is hardly a single traditional "alpha male" out of the 50 most popular speeches on TED.com.
Sure, Tony Robbins made the list, but so did Stephen Hawking and Hans Rosling – two men who are very intelligent, smart and passionate – but who perhaps are as far away as we can come from being Alpha Males…
As a matter of fact the majority of the men on the top-50-list of most watched speeches are non-alpha males. Not even Bill Clinton made the list. But Monica Lewinsky did (with a speech on the Price of shame.)
21 out of the 50 most watched speeches are from women, including Maysoon Zayid, an arab-American woman with cerebral palsy. A very innspiring and funny woman, who in almost every way is the opposite of the "physically strong, dominant, white, middle aged alpha-man" that many people "see" when they hear "keynote speaker".
The fourth most watched speech is a speech on the power of vulnerability. The 11th most watched one is on the power of introverts. (Both delivered by women.)
I am convinced that we are entering the "age of Gentle" – in a world where people in higher degree than before are empowered to do what they want, instead of what they are told to they do not want speakers who tell them what to think in an authoritative style – they want speakers who can inspire them in a gentle manner.
To be "gentle" means to be a a person who is mild in temperament or behaviour; kind or tender.
Almost all of the top 50 most watched speeches on TED.com are from smart, knowledgeable, passionate speakers who communicate their message in a mild temperament, kind way. Every single one of these speeches has at least 5 000 000 views. Those numbers do not lie.
The number one speech, with a staggering 35 000 000 views, is by Sir Ken Robinson, a man with a speaking style that is entertaining, funny and thought provoking. He has the ability to get respect from the audience, not by using a dominant or domineering style – but by arguing logically, making fun of himself and speaking softly.
By being gentle.
Ladies and Gentle Men: The future of speaking belongs to the gentle men and women who speak.
(Suggestion: Submit your email address in the form to the right to get a convenient email summary in your inbox every time 10 new posts have been posted.)
Contact Fredrik by clicking on the email symbol below.