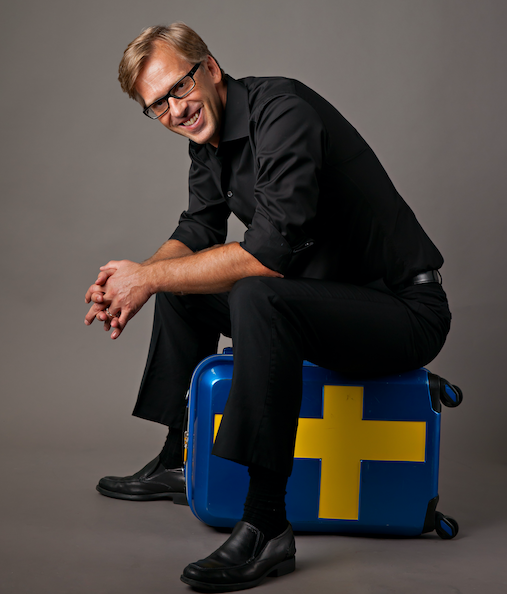 This plog post is about setting new goals. About upgrading your goals and how that sets you alive.
The text is about this goal I just set. The message is about you upgrading yours.
Two of the strongest passions in my life are speaking and travelling.
One of my strongest beliefs is that we have start to thinking more in the context of humanity. (I call that "humanityism")
Passion and believes is what move us forward, what gives us energy and meaning.
If we set goals that are based on taking us to the next level of where our passion and believes are leading up we will feel we live more.
In my late teens I would travel to far away places, like Hawaii, South Korea and Thailand and the love of seeing the world was born.
22 years ago I became a professional speaker and found a profession that I feel I was made to practise.
12 years ago I moved from Sweden to China and begun to seriously speak internationally.
10 years ago I become a global speaker and the last years I have been speaking in 20-35 countries per year.
Lately that has been my life. And I love it.
One year ago I added a project that I call "The Human Island" to my life. It's a project where I am going to visit 100 islands in 25 countries in 100 months or less. It has no commercial purpose or anything like that. It's just something I created to add a layer of depth to my life. (Islands are another passion of mine.)
Two weeks ago I realised that it was time to raise the bar a little bit more again.
I decided that I want to have spoken in 100 countries when I am 50 years old.
Today I am 48 years old and I have been invited to speak in 64 countries.
Why this new goal?
Partly there is a logical reason: I know that I got a more global – a more human – mindset when I went from having spoken in 50 countries compared to how I saw the world when I had spoken in 5. So I am guessing – and hoping – that I will get an even higher sense of understanding of humanity as a whole if I travel to more than 50% of all the worlds countries.
Partly its psychological: 100 is a round and symbolic number.
But the main reason is unexplainable. (I think all the best reasons for why you want to do anything are unexplainable)  I can not fully explain to anyone else why I feel that I "have to" reach the goal of speaking in 100 countries when I am 50. As for myself I do not need an explanation.
Today I have 36 countries left before I reach 100.
I sat down and picked out the 36 countries I really would like to add to the 64 I already have under my belt.
These 36 countries (for various reasons) are:
Argentina
Bhutan
Botswana
Brunei Darussalam
Costa Rica
Cuba
Cyprus
Democratic People's Republic of Korea (North Korea)
Dominican Republic
Equatorial Guinea
Fiji
Greece
Haiti
Ireland
Israel
Jamaica
Jordan
Kazakhstan
Kenya
Kuwait
Lebanon
Lesotho
Madagascar
Mongolia
Morocco
Nepal
New Zealand
Oman
Papua New Guinea
Qatar
Rwanda
Seychelles
Timor-Leste
Albania
Algeria
This list doesn't mean I have to add these 36 countries to make it 100 – but by making this selection I am making my goal clearer. I can go out and try to get speaking engagements in these countries.
I have done a selection.
The lion has selected its pray.
And here is the funny thing:
Just by making this decision I feel happier, more energised, more focused and more "on purpose".
The powerful feeling I got from just up-grading my goals (not reaching them, not even getting a single country closer to achieving them yet) – just by writing down this up-graded goal of mine around traveling the world to speak – made me write this blog post.
What are your passions?
What are your values?
What are your goals?
Now how could you up-grade those goals to take them – and your life – to the next level?