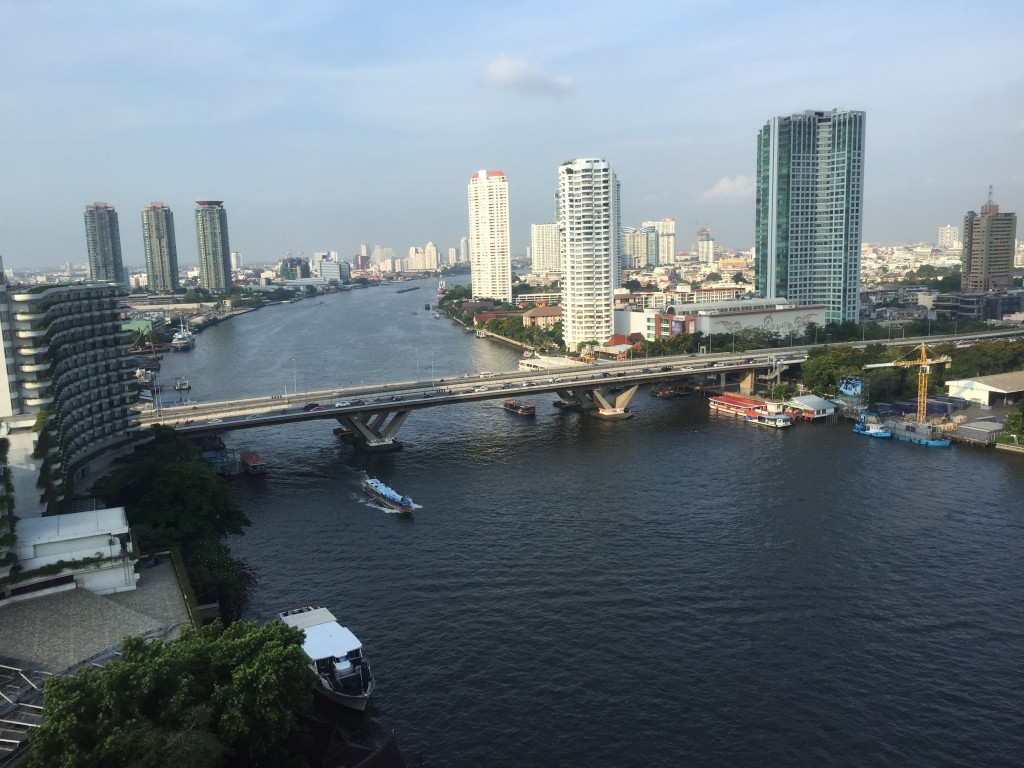 At the Shangri-La Hotel in Bangkok, Thailand.
A couple of hundred clients of software company Sabre met at the Shangri-La Hotel in Bangkok today. The delegates came from 38 different countries and represented some of the largest hotel companies in the world.
The theme of the conference was how technology is changing the hospitality industry and Sabre was showing their latest innovations in booking software.
The only external speaker was me.
I was there because they wanted me to speak about innovation and change.
Why am I telling you this?
Because I have been invited to conferences just like this one for 15 years, to companies in all industries (from banks to car companies) and in over 55 countries. I would love to think that the reason I get invited back, time and time again, is because they think I am a great speaker (and that is, of course, true in a way – they would never invite a speaker they did not think was great.)
But my point is that it is not ENOUGH to be a great speaker. There are many great speakers who do not get invited to give keynotes at global conferences, and there are actually multiple reasons for why those great speakers do not get invited.
Today I am going to talk about one of those reasons: The need for a "universal niche".
As a keynote speaker, you need to have a theme that is "niched" or "positioned" enough so that you can become an expert in it and be seen as a thought leader of that niche.
But at the same time, the theme needs to be "universal" in the sense that it needs be a theme that never goes out of style, which is of interest to any industry, at any time. (Yes, you can of course be an "industry specific speaker" and only speak at, say, wedding conferences, but I think having a universal theme is much safer, more lucrative and easier to sell.)
Many speakers saw their booking rate tumble during the Global Financial Crisis, especially speakers who were selling themselves as being "entertaining" or "funny" – suddenly companies did not want to book them. Their theme just wasn't suitable for a conference where the company was trying to save money or just had to fire staff.
But I never saw a decline. I had as many engagements as I had always had straight through the GFC. Why? Because my "niche" of speaking on "business creativity" is "universal" — companies need to be creative in good times, and in bad times.
How can I speak at events with diverse themes such as a banking conference, a travel conference, and a car conference, etc.? Because the theme of "business creativity" is "universal". All industries need to change. All organisations want to innovate.
During the Sabre conference, the internal speakers from Sabre mentioned the word "innovation" or "creativity" more times than I could count – so it was with great confidence that I could go up on the stage and begin my speech by saying "I am very happy to be here because I think my speech will fit very well to the theme of this conference."
The funny thing is, that is an introduction that I could use at almost every corporate conference that happens in the world today, yesterday and tomorrow.
Lesson: Ask yourself, is your theme "universal" enough that it would fit well at any conference, regardless of what the conference is about, or what industry the conference is for?
If not, is there any way that you can make it more universal?