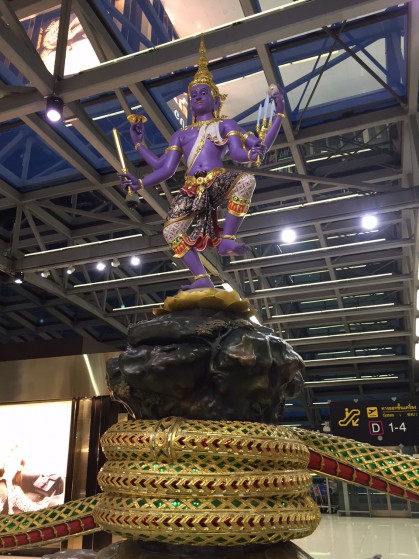 Bangkok, Thailand.
I am writing this at Suvarnabhumi Airport in Bangkok, Thailand. I am on a short stop-over after the first leg of an around-the-world ticket that will take me from Copenhagen-via Bangkok-Singapore-via Seoul-San Francisco-via Zurich-to Split in Croatia. The ticket then continues back to Copenhagen, but by then I will have left to fly back to Singapore.
So why did I start an around the world ticket in Denmark?
Because the next few weeks will take me to speak in Singapore (my home town), San Francisco, and Split.
By getting an around the world ticket that starts in Copenhagen, I get an "extra" stop in my home town of Singapore, that makes it possible for me to achieve the three "24-hour-stops" needed when buying such a ticket.
The last 24-hour-stop will be in Split where the airline thinks that I will stay for 48 hours. They do not need to know that I would have left Split in less than 24 hours on a different ticket back to Singapore.
So why this strange way of buying tickets?
Because this around-the-world ticket cost me just 10,000 SGD for an all-business-class ticket. Just a simple Copenhagen-Singapore return ticket on Singapore Airlines would cost almost the same amount.
Buying "around-the-world tickets" is an amazing way of getting cheap flights and a "travel trick" that many frequent fliers forget to check out.
It will not work for everyone since you need to have a travel schedule which will take you to places all over the world — and in an order where you are able to continuously fly in the same direction (east to west, or west to east).
But when the "stars align" and such a ticket becomes an option, it's a great ticket to get.
With some planning and creativity, it can be an option that is available more often than you would think. I have, for example, bought 5 around-the-world-tickets in the last 2 years and will buy 1 more in a few weeks.
Lesson: Plan your trips.
(Suggestion: Submit your email address in the form to the right to get a convenient email summary in your inbox every time 10 new posts have been posted.)
Contact Fredrik by clicking on the email symbol below.