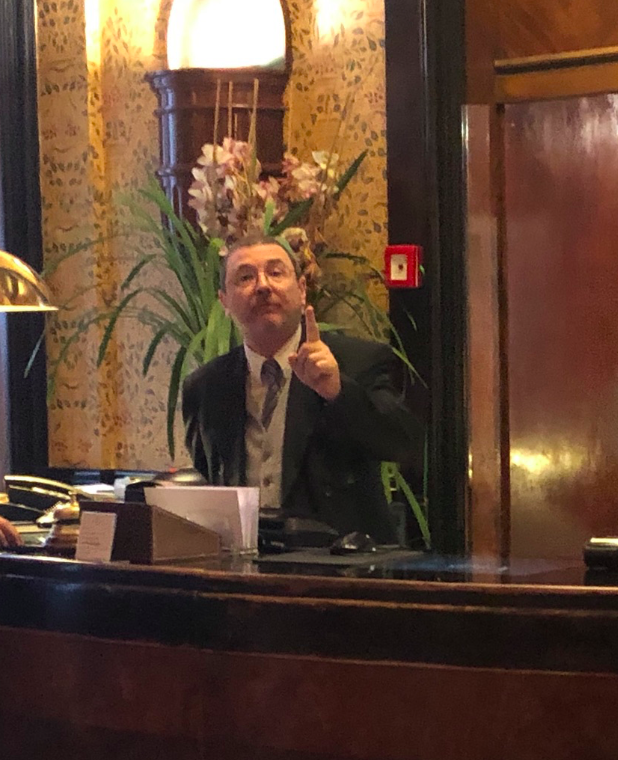 So this happened today, imagine it happened to you:
6:00 Wake up at the 5-start (!) Hotel Plaza in Rome and look for the iron in the room.
Can not find one.
Pick up the phone to call room service for an iron to iron my suit and shirt before the speech this morning. (Conference starts at 9:00)
No line on the phone. (turns out phones are not working in the hotel this morning)
6:15 Still no line. Walk down to reception to ask if they can have an iron brought up to the room.
Grumpy old receptionist replies: "We do not offer this service."
Me: "You do not offer an iron to guests?
"No, Sir. We do offer a ironing service, but they do not come in until 8:30 so I can not guarantee when they will be done."
Me: "Can you make an exception and lend that iron to me, or the iron that your staff uses?"
I explain to him that I need to be in the ballroom at 8:45 LATEST and that 150+ guests from all over the world have flown in to this hotel and I am going to speak to all of them and can not do that in a suit that is not ironed…
He replies: "We can not lend you an iron. Security reasons."
I try to explain to him that HOSTELS offer irons to guests so they might want to re-consider their policy if they want conferences in the future. But it is of course fruitless.
So, what would you do?
a) Wait for 8:30 and hope that they can iron your shirt in 15 minutes. (With the service level so far i do not trust that at all.)
b) Attend the first part of the conference in your traveling clothes from the back and then go get the suit before you speak at 10:15? (Makes you look like a fool, or at least like an amateur.)
c) Continue to reason/argue with the man to get him to change his mind. (Good luck, See picture of stubborn, grumpy Italian man …)
d) Other solution.
Of course there is always another solution.
I asked my "friend" in the reception where the nearest other hotel is and he points me in a direction with a puzzled grin on his face.
I take my suit, smile, and say "Thank you".
I then walk a few hundred meters to this other hotel, walk in with a confident smile and explain my situation: "I am staying at Plaza hotel, am speaking at 9 AM and they do not offer an iron to their guests and their ironing service is not open until earliest 8:30 which is too late for me. Can you help me?"
"Of course, Sir. It will be done by 8:00 o'clock."
Me: "Thank you."
I walk back to my hotel, past my grumpy receptionist who now has an even more puzzled look on his face as I come back to eat breakfast without carrying my suit.
At 8:00 I pick up my suit, go down to the convention area and get a feel for the room, mingle with clients and get ready to speak all while wearing a well ironed suit and without any last minute stress.
Lesson: There is always a solution. (Bonus lesson: Never take good service for granted in Italy, but look and you will find it…)