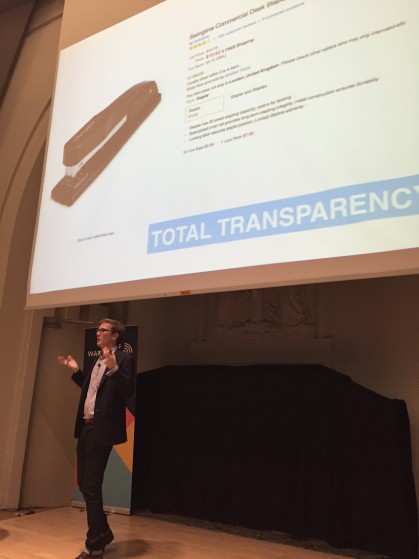 Today, I delivered a speech as the only external speaker when Trendwatching (www.trendwatching.com) had their trend seminar.
Trendwatching.com is an amazing company that collects trends from all over the world using 3000+ trend watchers. Their website offers an amazing number of free trends (and even more if you pay for it, of course).
During the seminar today, they (the people from Trendwatching) presented some of the most interesting trends at the moment. I stayed for the whole day because I found it so fascinating to listen to them.
And this post will be about an insight that hit me during the day.
The Trick to Being a Great Speaker: Moving Your Audience from Point A to Point B
A common critique that speakers often get to hear is "most of the stuff presented during the conference/speech was not new", or "I already know most of this stuff".
I would like to comment on that.
You see, I think that a conference where everything is about brand new insights for the audience would be very exhausting to listen to, and I actually doubt that you would be able to digest it all.
A good speaker is supposed to move the audience to a new place – but in order to do that, you have to start where the audience is. Another way of saying it would be "you can not move someone from A to B without starting at A".
The trick to being a great speaker is that you are able to sense where the audience is (Point A) and then sense how far you can move them (Point B).
Move them too little and the audience will feel that they did not learn anything.
Move them too far and the audience will not understand what you are talking about.
But that means that some parts of your speech need to include examples or descriptions that the audience is familiar with, to make them accept the world view that you are painting. They feel, "Oh, I agree with the speaker because I feel/think the same way". Then you, as a speaker, can start moving them.
Also, remember that the an audience will always consist of people who have different knowledge sets of the subject you are talking about. So, you have to speak to the "middle knowledge" of the room. This means that some people will already know what you are talking about, and some will have no clue.
My insight from today was that a speech (or a whole conference) is successful if there is even just one new insight that you take away.
Like the conference today.
The Stapler Example
There was, of course, many examples of trends that were presented which I already knew about: everything from Uber, to AirBnB and Spotify. The usual suspects, so to say.
But then, there were many I have never heard of, and a few that really made me think.
Like when Henry Manson from Trendwatching.com was talking about the trend of how the world is becoming increasingly transparent, and illustrated it with a product review of a stapler that had 581 (!) reviews on Amazon.com.
Imagine, 581 people have taken the time to write down a review of a stapler — a $10 stapler!
One good example like that can get your mind starting to think in brand new ways, or perhaps I should say that it got MY mind started.
For others in the audience, that example meant nothing and instead, some other example from the day triggered new thoughts.
And one example like that made it worthwhile to go to the whole conference for me.
As long as I get one, or a few thing(s) to take home, I will be happy as an audience member.
That was my takeaway today from the conference where I was a speaker.
Lesson: As a speaker, you should aim at leaving the audience thinking thoughts they had never thought before to move their frame of reference. But structure your speech by presenting your material in a way that it feels familiar, yet new, to the audience.
(Suggestion: Submit your email address in the form to the right to get a convenient email summary in your inbox every time 10 new posts have been posted.)