I did not do any speeches this week, instead I went on a one week vacation with my wife to San Fransisco to visit family, friends and to attend a wedding of a good friend.
I might not have been working, but I took any chance I could get to become better as a speaker.
An example: While in San Francisco me and my wife decided to go to Oaklanda stand-up performance with the cult comedian Sinbad.
I also attended the final game between the Golden State Warriors and Houston Rockets in the Oracle Arena. Well, technically the game was in Houston but the whole stadium in Oakland was full with fans who wanted to watch the game on the big screen jumbotron TV.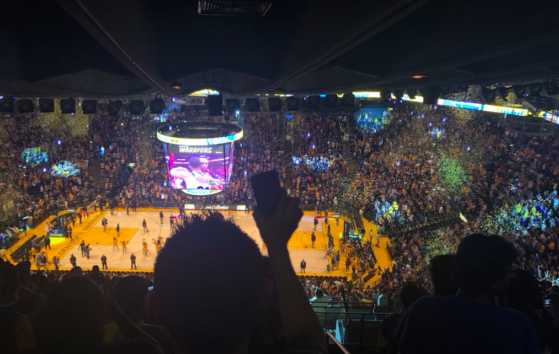 Watching Sinbad do his stand-up routine I was reminded about things like:
the importance of looking like you enjoy being on stage.
the power of improvised storytelling
the value of engaging with the audience in a non-threatening way.
Watching a basketball game in a sold-out stadium where there was no team playing (!) I was shown the power of how the surroundings around the main event (be it – like in this case – a basketball game, or in my case, a speech).
It was fascinating to see how the audience would scream, cheer and boo even as neither team was there to hear it. It felt – almost – like being at the actual game.
(On this trip I also came up with what will, perhaps, be the theme for my next book, while sleeping in in our hotel room one day.)
As professional speakers we have a lot of time of, ie time when we are not speaking. (I am guessing the average professional speaker makes 70-150 speeches per year leaving close to 200-300 days in a year when we are NOT speaking…)
But if we want to be on top of our game we have to think about speaking every single day. That is one of the things I love with this job: that we get so much time over to live a life we want, yet can spend so much time developing ourselves in the area – speaking – that we are passionate about.
The best of both worlds. Not just work-life balance. But work-life harmony.