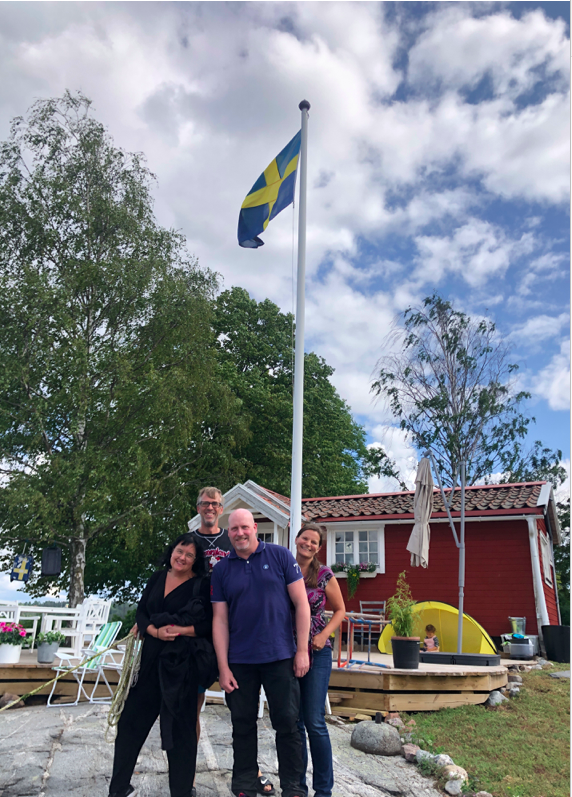 I find it very important as a speaker to disconnect from the fast paced world of being a global keynote speaker where the days are full of conferences, flights and hotels to just sit and do nothing on an island. (that is why I spend around two months per year on my island in Sweden where I am right now.)
But at the same time I find it very important to continue to be connected with the speaking world to not loose touch with the speaking world.
So even in the midst of vacation, while sitting on my island in Stockholm, I still connect with speakers.
Last week I had the privilege of being visited by James Taylor and Alison Burns from Scotland. Today Charlotte Signahl, Tommy Brotte, and Mia Liljeberg came and visited on the island.
The conversations at these meet ups are less about business and more about life, goals and the future. Relaxed conversations in the sun to give a different perspective to the speaking profession and to talk about ideas for the future.
If you see yourself passing by the archipelago of Stockholm in the next two weeks do pass by and let's meet up to discuss the life of speaking, and to speak about life. Or if you are somewhere else in the world, take the time to meet up with another speaker and give yourself the luxury to have non-business-conversations about speaking to give yourselves an alternative view on what we do and fresh insights that your "vacation brain" can work with.