Shanghai, China.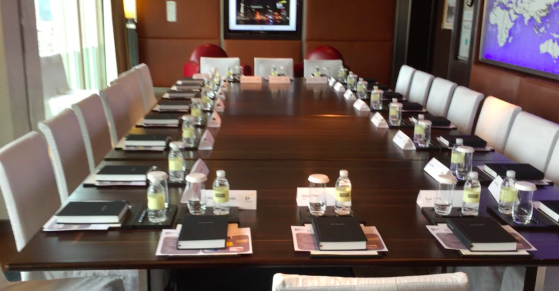 In my 15 years as a professional speaker, I met some amazing HR managers, but I have to say that none have impressed me as much as Gina Qiao did today.
Gina is Senior Vice President of Global HR at Lenovo.
Now, Lenovo is an impressive company that has gone from nothing to the world's largest PC company in 31 years.
But as impressive as the Lenovo story is Gina's story. In fact, it is even more impressive.
I met Gina today when I was invited to give a speech for a small number of global HR managers for companies with Asian headquarters. It was organised by EY and I was the only speaker. In the audience were Chief HR Officers of companies like Alibaba, Petronas, Geely (owners of Volvo), and many more.
I was invited to inspire them through my talk on having a global mindset, and I think it worked because they asked me to speak longer than my allotted time slot. After the speech, I got feedback like "I think this was amazing", "I wish I met him 10 years ago. I love everything he said", and so on.
But as inspired as they might have been by me, I was more inspired by them – and especially by the story of Gina Qiao.
Gina started in a junior position at Lenovo in China and slowly moved up to Head of Marketing in China.
After that, she was transferred to the HR department without having any experience of HR and without wanting the job.
Later, she was moved to Head of Strategy – again without having any experience in that area.
When Lenovo bought the PC division of IBM (at that time 3 times the size of Lenovo), it was decided that English would be the new corporate language. Gina, who had lived her whole life in China and studied Japanese as a second language in school, knew only a few words in English.
She almost quit.
But instead, she got a teacher and after a while moved to the USA to force herself to master English.
Today, ten years after the merger, she is not only fluent in English, but she is the Senior Vice President of Global HR at Lenovo, perhaps the most globally diverse company in the IT sector.
She told me that leaving China and the knowledge of "Chinese companies" to embark on learning about the world and running a global company had made her humble.
As she said: "You have to appreciate diversification. If you see something different, ask WHY. You can learn more than you can expect. Before, I was so arrogant thinking I knew it all because we were so successful in China. We were a USD 3 billion company then. Now, we are a 47 billion dollar company. I am so small, (there are) so many things I do not know."
Gina's story of her rise from being a Junior Chinese worker to Senior Vice President of Global HR at Lenovo, one of the largest PC companies in the world, inspired me so much — how she constantly challenged herself to take on jobs in areas she knew nothing about and growing in the process by continuously learning.
Lesson: Remember what mothers are known for saying, "To be interesting, you have to be interested."
It is true for inspiration too. To inspire, you need to be inspired.
As a speaker, your job is often to inspire the audience. But the nature of this job also means that you will get a chance to get up close with some of the most inspiring people in business. Use that opportunity to get some healthy doses of inspiration from them yourself.