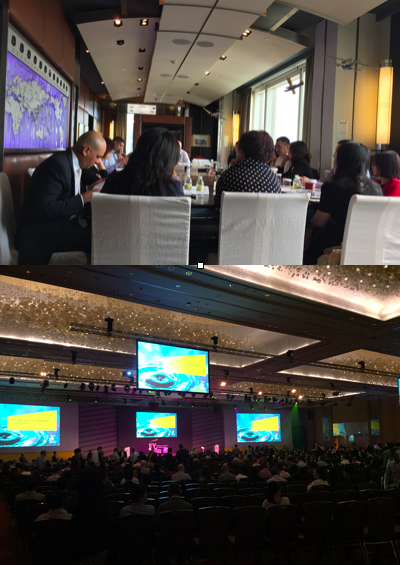 Today 1700 partners and global leaders of EY from 22 different countries started a three day conference at the massive Marina Bay Sands Convention centre.
They had just three external keynote speakers for this conference.
For a big and important conference like this (EY partners in Asia met like this last time 3 years ago) – there would be very few limits of the kind of speakers they would book. They would basically pick the speakers they want to have.
The went for:
1) Steve Wozniak (flown in from USA) (creator of Apple II computer and global ideas wizard)
2) Linda Yueh (BBC presenter, Adjunct Professor of Economics at London Business School, and Visiting Professor of Economics at Peking University who flown in from the UK)
and
3): Me.
After 2000+ speeches over a 20+ year speaker career I have come to understand that there are no "boring speeches" or "boring groups".
But there are some "extra fun speeches" for "extra fun groups".
And – for me – the most fun speeches and the most fun groups are big, global conferences. It is just something with the dynamic of a big, global group that I like so much. How it becomes a group of Humans – not a group of people from a certain nationality/group/culture. 
I also love how everything is bigger, the budgets, the crowds, the stage – the stakes.
Big, global conferences are just the most fun ones to do, I think. The SuperBowl – or the World Cup, if you like – of speeches.
So how did I get this high profile, big conference gig?
By doing a very small talk for 12 of EY's clients at a small hotel room in Shanghai in June.
The moral here is: Do not look down on the speeches done for small groups.
(Now, to be clear, that job in China was a very fun job too, since it might have been small, but it was the top global HR managers of big Chinese companies.)
But my point is: You never know how a small gig might lead to a big one. Because EY liked what I did for them in China they invited me back for their big conference.
That means I was just one connection away from speaking at their big Asian conference when I did that small speech in China.
I love the concept of "six degrees of separation", the idea that every human is connected to anyone else by no more than 6 steps. (And with globalisation and the Internet it is probably now more like 5 steps.)
But I do not think it should be called "six degrees of separation" – it should be called "six degrees of connections", because our connections are not separating us, they are connecting us.
And when it comes to doing a speech for a multinational or international company you are probably no more than 3 connections away from the person who organises the global conference.
1) The person who booked your speech probably knows the national HR director
2) The national HR director probably knows the person who organises the global conference
Now for the first person to recommend to the national HR director that she contact the head of the global conference person and suggest that YOU should be the speaker for their next big conference (out of all the speakers in the world) it is of course not enough that they know who you are.
They also must think that you are the very best choice…
And that means you have to have a kick-ass speech.
But if you do (and I know many speakers who have great, world class speeches, and who want to do big, global conferences but who are not getting those bookings) my advice is this:
Look at the person who books you for a small speech as a "talent scout" who is out looking for great speaking talent that he or she can bring to the big leagues.
You will be surprised how quickly you can go from little league, to mayor league to world series in the world of speaking.
(Suggestion: Submit your email address in the form to the right to get a convenient email summary in your inbox every time 10 new posts have been posted.)
Contact Fredrik by clicking on the email symbol below.