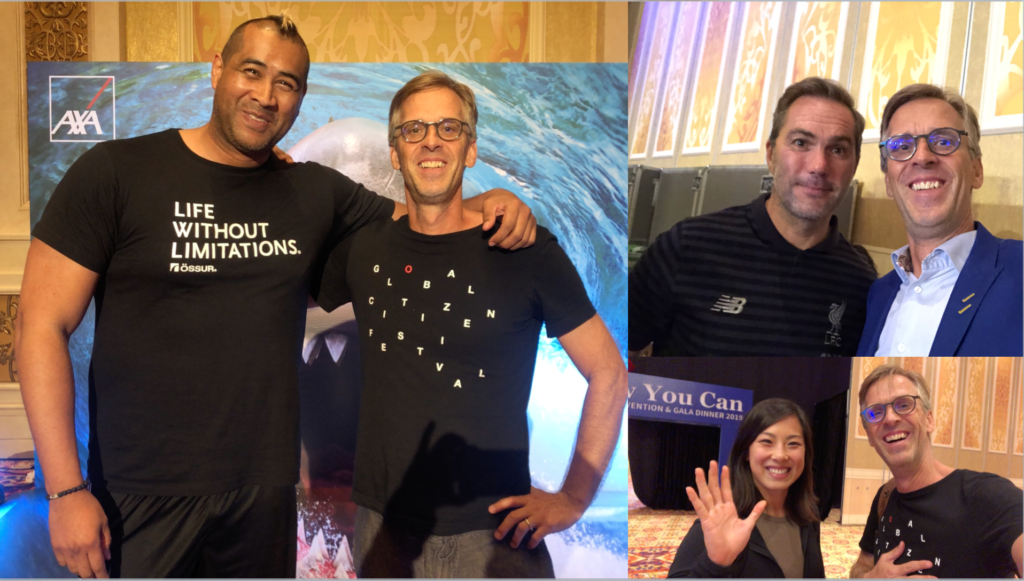 In this post I want to write about one of the biggest perks of being a professional speaker: That you get to meet so many inspirational and motivational speakers!
Last week I had the privilege to share the stage with some of the world's heavyweights in inspiration as I was one of the speakers at a big event for AXA in Macau with more than 1000 MDRT-agents from around Asia meeting to celebrate their success.
Some of the other speakers at this event where:
Achmat Hassiem (Sharkboy)
A South African swimmer who was injured in an attack by a great white shark. The lower portion of his leg was subsequently amputated, because of the manner in which he sustained his disability Hassiem is nicknamed "Sharkboy".
Hassiem began swimming at the Sports Science Institute of South Africa following his accident and was selected to represent South Africa at the 2012 Summer Paralympics held in London.
Jia Jiang
Author of the book "Rejection Proof: How I Beat Fear and Became Invincible Through 100 Days of Rejection". His TED-talk is one of the most watched TED-talks ever.
Eric Feng
Eric was awarded "JCI 10 Most Outstanding Young Person of Singapore", and he is a bundle of positive energy.
and Ramona Pascual
Ramona Pascual is Hong Kong's first professional mixed martial arts fighter signed to a regional promotion, Road Fighting Championship. She is also the first female ever to headline a fight event and compete for a mixed martial arts championship title in Hong Kong
Finally I got to meet with Jason McAteer, former Liverpool player and now part of "Liverpool Legends".
My son is a football fanatic and my daughter loves martial art so to be able to show a photo with daddy with a real-life Premier League player to my son and an interview with a real-life fighter woman for my girl made me "daddy of the day". And of course they all where blown away by finding out that their daddy got to do a video together with a man who had his leg bitten off by a shark and lived to tell the tale.
I usually do not use the word "inspirational speaker" to describe myself – but in this post I will – because I am a speaker who inspired my children today by sharing the inspirational messages that I learnt from the other speakers speaking at the same conference.
When I was a young child my father – who was a musician – would bring me and my brother with him to his gigs so we got to meet with other musicians and see what his life was all about. Today I am doing the same for my children.
If you have children, do invite them into your world as a speaker to let them experience the benefits that comes from being able to share the stage – and the green room! – with so many other inspiring people.
At the age of my children I can not bring them around the world to my speaking gigs very often – but I can bring the speaking gigs back to the kids so I make sure I record short messages to my children from the inspiring people that I meet. And I can get messages back to them from the inspiring people that I interview on my travels.
Just in the last few months my kids have gotten short video messages, notes of encouragement or expert advice from:
A glass artist encouraging my kids not to give up
A photographer teaching my kids how to think about pictures
A designer sending inspiration to my children to keep drawing
A chef inspiring my kids to cook
A sculptor sending positive messages to my kids
and many, many more.
And at this event in Macau:
A shark-survivor encouraging my kids to believe in themselves
A female fighter pushing my girls to keep dreaming
and a footballer sending inspiration to my football fanatic son.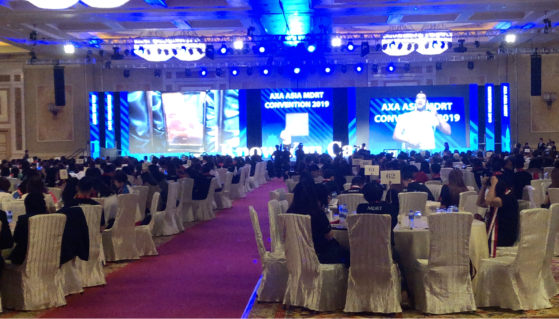 Seeing their father meeting with these world experts in different fields and having these experts send personal messages to my kids makes my children feel that worldclass mastery is within reach. That masters of a craft are not "stars far away" – but real people that they are connected to.
That I think is true inspiration.
Being able to give that to my children is one of the most valuable perks of being a professional speaker.