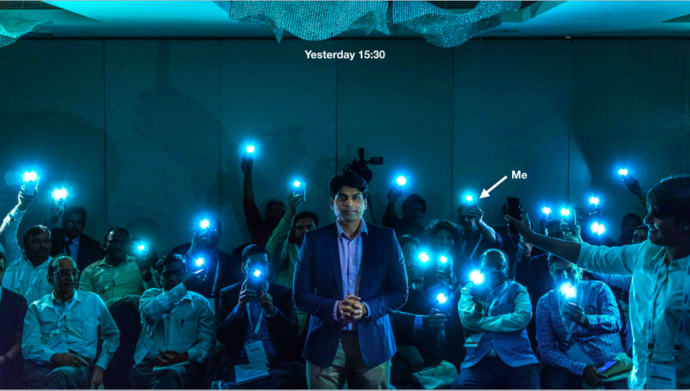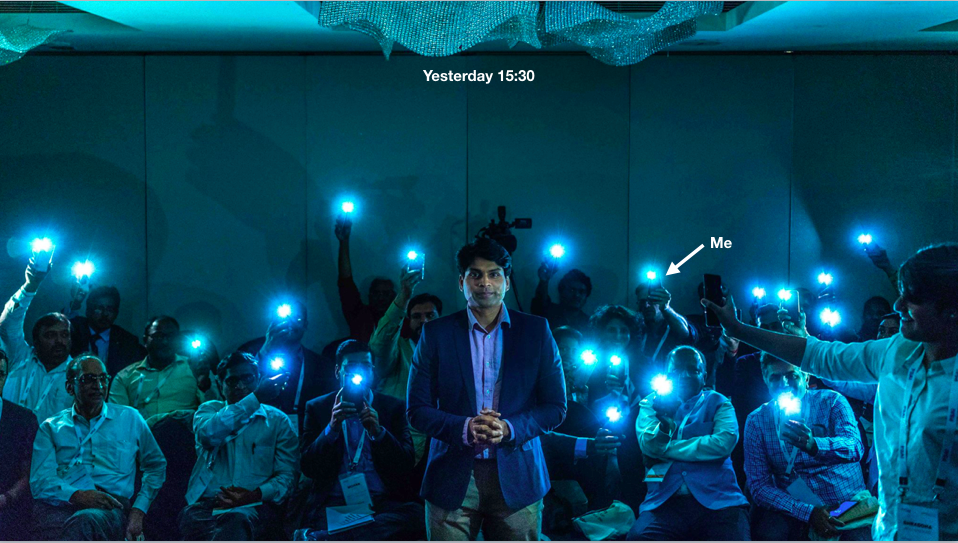 Ten days ago I had the privilege of being the closing speaker at the Professional Speakers Summit – the first ever professional speakers summit in India. More than 150 speakers from all over India (and the world) met in Chennai to learn from each other.
As the closing keynote speaker I had to close the convention with a speech on how to become a global keynote speaker. But I also wanted to communicate a deeper message – a message of the value of putting into action the things the audience would have learnt at the convention.
So I decided to show – instead of just telling.
On the first day of the convention another speaker, the amazing professional photographer Amar Ramesh, had talked about the need for professional speakers to have a professional appearance such as hiring a stylist, having professional head-shots and a great showreel video.
Hearing him speak I went up to him and booked him right after his speech to do my 2019 headshot photos (Amar is one of the most respected portrait and wedding photographers in India and it seemed a great chance to have him take my new headshot pictures.) But I noticed very few other speakers went up and booked him.
So the second day of the conference at 8 am I had an idea:
I called Amar and asked him to bring his stylist to the convention.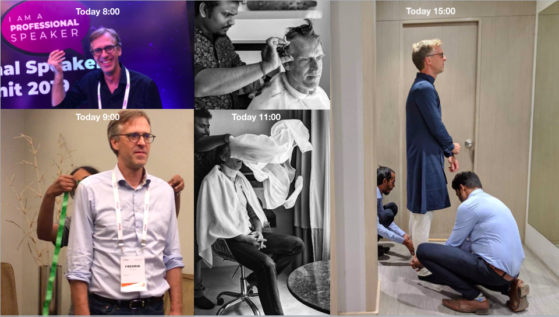 At 9:00 the stylist came and took my measurements.
At 11:00 his hair stylist came and cut my hair.
At 3 pm I went to get the new Indian clothes fitted that the stylist had picked for me as they would fit to speak to an Indian audience.
At 5 pm I walked up on stage in a new outfit, with a new haircut and I told the audience: "The purpose of attending a speakers' convention is not to just get inspiration and/or knowledge, but to turn that inspiration/knowledge to action, just like I took Amar's advice about getting a stylist and one day later walked up here to you styled in a new outfit."
The audience loved it.
Not only because I was standing in front of them in an Indian outfit, but because I "walked the talk", I SHOWED in my actions the thing I was talking about. And I connected to the previous speakers from the convention by connecting to their messages in my speech. And finally they loved it because it showed that I had improvised and changed my speech based on what had happened during the conference – ie I had been paying attention.
If you are the closing speaker, make sure you are open to change your speech based on what happens before you speak.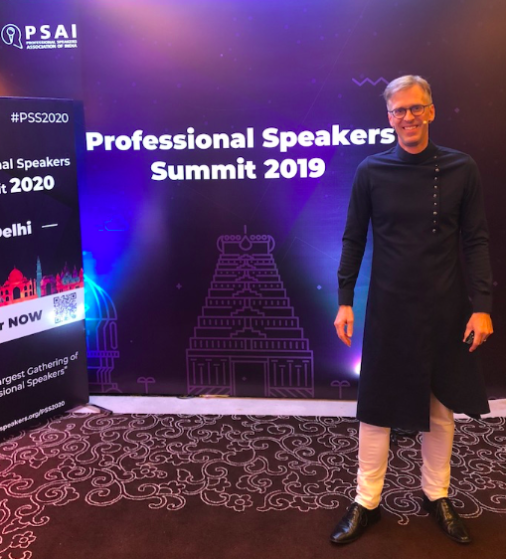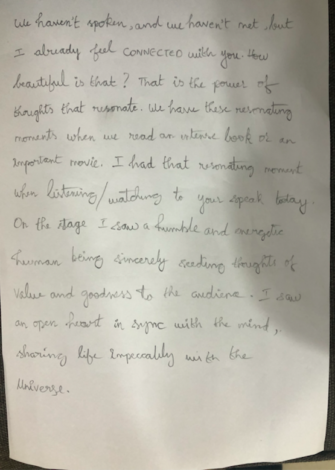 Being a professional speaker is a rewarding job in so many ways. We get to spread our message and we get to see the world. We get an applause when we are done, and sometimes even a standing ovation. (I got two last week alone.) Most people do amazing work and never get a standing ovation in their life, or even an applause. Or even a heartfelt thank you.
Sometimes I think we take this great job perk of getting positive affirmation for granted.
We should not.
We should treasure it for the great gift it is.
A couple a days ago I gave a speech in India at the first ever Professional Speakers Summit. I got to speak about speaking to 150 people.
An hour after my speech a man came up to me and handed me a hand-written letter that he had written and that he wanted me to have.
The fact that it was hand-written and hand-delivered made the message so much stronger.
It made me very happy.
And it reminded me of why I do what I do. About why I am a professional speaker. And about the power of a well delivered speech.
As a speaker, never forget the power to touch people's life that comes with this profession.
And aim to do just that every time you deliver a speech.
Fredrik.
Here is the letter:
"We haven't spoken, and we haven't met but I already feel CONNECTED with you. How beautiful is that? That is the power of thought that resonate. We have these resonating moments when we read an intense book or an important movie. I had that resonating moment when listening/watching to you speak today. On the stage I saw a humble and energetic human being sincerely seeding thoughts of value and goodness to his audience. I saw an open heart in sync with the mind, sharing life impeccably with the universe.
That you for the time and mind you shared with us Fredrik it means a lot. As a fellow human being  and a writer striving to make this world more beautiful and interesting and impactful  I felt the need to reach out and let you know that you are an amazing soul on an inspiring journey. This moment of resonance matters. This is important. This is beautiful. This is creativity.
Glad it happened, and happy to share!
With smiles, "